EDUCATIONAL-ATTESTATION WELDING CENTER
The training and certification center for the training of welders fully meets the modern requirements for the training process and represents a single set of the latest teaching and methodological and technical tools that allow specialists in electric arc welding and welding safety to be trained in a short time and with very high efficiency.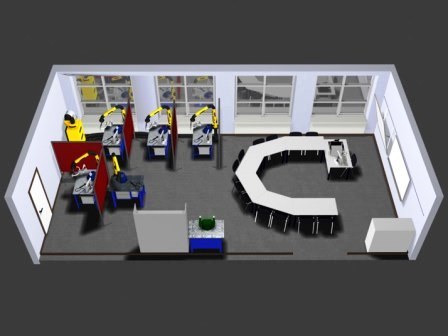 Welders training directions
This center allows you to carry out laboratory and practical classes in the following areas:
- Manual metal arc welding (MMA);
- Arc welding with a consumable electrode in shielding gases (MIG / MAG);
- Arc welding with non-consumable (tungsten) electrode in inert gases (TIG);
- The device and the principle of operation of welding equipment.
THE PRINCIPLE OF CONSTRUCTION OF PREPARATION BY EACH DIRECTION
1st stage
Classes in the laboratory class in order to obtain theoretical knowledge. Acquisition, using the simulators of the welder, the primary skills of conducting welding and ignition processes and maintaining a stable arc, holding the appropriate tool angles, welding speed, and welding at different spatial positions of the welded product.
2st stage
Welding works in a class consisting of specially equipped individual welder booths, to obtain practical skills of working with real equipment.
METHODICAL SUPPORT
- Educational-methodical complex in each direction contains:
- Lectures on the fundamentals of electric arc welding and features of each of the directions MMA, MIG / MAG, TIG (printed copy);
- A collection of slides and videos for demonstration on the projector;
- A collection of laboratory works containing methodological instructions for the teacher for each work;
- A set of color posters for electric arc welding.
TECHNICAL EQUIPMENT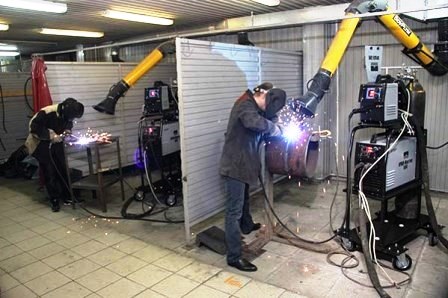 1st stage of training - laboratory class
Welder simulators are equipped with electronic sensors that allow real-time monitoring of the parameters of the welding process performed by the student on the monitor screen. For all directions of training, one interface and a manipulator with a simulator of the welded product are used, only the welder's tool and the spatial position of the welded product are changed.
2nd stage of training - class with welder cabs
A complete set of welding equipment for all types of metal welding. Such as:
- Welding semiautomatic devices for MIG / MAG welding;
- Welding inverters for MMA electrode welding;
- Welding machines for welding with non-consumable TIG electrode;
- Special welder tables;
- Welding devices and manipulators;
- Filter-ventilation systems;
- Protective barriers;
- Reference samples of welded seams, and also samples illustrating defects etc.